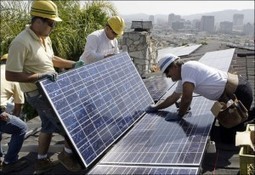 Deutsche Bank just released new analyses concluding that the global solar market will become sustainable on its own terms by the end of 2014, no longer needing subsidies.
Douglas Short's insight:
Rooftop solar is especially robust, according to Deutsche Bank. It increased its forecast for worldwide solar installations in 2013 to 30 gigawatts, 20% more than in 2012.
See on theenergycollective.com